Get to know Cynthia as she talks about her life journey, filled with ups and downs. From her early years growing up with her grandmother to surviving a difficult domestic violence situation and experiencing homelessness, Cynthia shares her story of resilience and growth. She also talks about finding a sense of belonging at COTS, how coaching has made a positive impact on her life, and common misconceptions about homelessness.
Tell us where you grew up and about your childhood. Do you have siblings?

My mom and grandmother were from Mississippi. My grandmother raised me in Detroit. I do have siblings. I have 1 sister and 3 brothers. I was the first-born. My mother raised my other siblings. My grandmother raised me because my mom's boyfriend was sexually assaulting me at night in my room.

I learned a lot from my grandmother. Learning how to cook as early as 5 years old. God bless her for teaching me all the southern habits and tricks, so I can cook anything. That really taught me how to be on my own and figure stuff out on my own. By 10 I knew how to cook a full meal. 

She taught me how to cook, clean, and sew stuff. And she bought me mannequin head dolls. So I knew how to do hair by the time I had kids. If I could see and talk to her, I wouldn't ask her how heaven is. I would just want to sit there, look at her, and just hold her and thank her.
What's something your grandmother taught you that you'll always carry with you?

I'm a people person. I believe I can talk to anyone. She told me, "You can't always be afraid. You gotta learn to love and love to give." And that's why I love giving back. I'm teaching my son about giving back. You know just because you do something, you don't don't always have to receive something back. Cause if you are really passionate about giving, that feeling you get from helping somebody else is bigger than anything. Money comes and goes. But that feeling and that memory lasts forever. 
Could you share how you found yourself experiencing homelessness?

I was in a bad domestic violence relationship with my son's father. I forgive and I forget now. You know how they say forgive and don't forget? I say forgive and forget because I realize after going through this that he couldn't be what I wanted him to be. Because he didn't know about giving love back. And when you have something you're dealing with internally, you can't give anybody all of you. No matter how hard you try. No matter how bad you want them to give you that one thing. If they not healthy, then they can't help you. 

And I could've been left. But it's hard to leave after you put your all into someone. Plus I'm like this is my son's father. I'm taking my son from him. It's hard to explain to a child. And you don't want to paint a bad image of their parent. You don't want your kid angry and not understanding what's going on. So you try to make it look better. But if I have to constantly be on the defensive side and defend myself with my hands, then this ain't for me. 

So after leaving that experience, I could have gone to family. I did not want to go to any family because they had one thing on their mind. They only cared about what I could give them in return like money. Or they had rules that I couldn't agree to. Not because I didn't want to, but for example, with the job I had at the time I didn't get home until 11 PM. My aunt's rule was I had to be in the house by 9 pm and I had to get my child after work too. I wouldn't get to her place until at least midnight. It wasn't going to work. 
How did you get involved with COTS?

I used to work nearby and was out there for 10 years, helping Ms. Dina every Sunday passing out stuff. Hot food. Lunch bags. All kinds of stuff. This was when they first started working in this building and Ms. Dina said, "Why don't you just go ahead and sign up?" I said, "Sign up where?" She said, "For this building." And I said, "No no. This isn't the place for me." She said, "Okay, I won't ask you again." Then another day I was outside doing some work outside of the building. And they said, "You would be a great asset to our building and community." And I'm thinking to myself, "Why is everybody trying to get me to come here?" And I kept saying no to myself. 

I kept meeting people from COTS. And they were loving me and welcoming me. So I said to myself, "I'ma sign-up. I will put in an application." I moved in October of last year. And November 1st was my first day working here. It's been a smooth transition for me. The staff show me so much love. And I'll never forget the first two people I met here. Ms. Wallace and Ms. Jhons. Ms. Jhons came up to me, "Hey sis how are you doing?" I said, "Huh?" she said, "Sis, are you okay?" I said, "Yeah," a little nervous. She touched my shoulder, and I just felt so warm and so much love from her. And she said, "Do you want to sign up for coaching?" And I had no idea what it was about. But something in me said, "Yes," before I could even ask her what coaching consisted of. And from that day til now I have not been away from her. I even signed a contract to do coaching with her for 5 more years, even after I leave COTS. So even if I move out next week, I'll still be in contact with her and my COTS family. 
After I signed it, I said to myself, "I must be crazy for signing up for 5 more years of coaching." But then I thought about it and said these people have really brought so much to me.
Tell us about your coaching experience. Were you nervous or excited?

First, let me say Ms. Jhons is an amazing coach because when you see her, you just can't help but smile. She is always smiling and she is like the momma hen with us as her chicks under her wing. 

Coaching was a new experience. I didn't know what to expect. Coaching is helpful though. For example, say you need an ID or something that was expired and don't have the funds for it. Ms. Jhons or someone here would be the person you would go to for help with that. They help prioritize past due bills and things so when you're ready to graduate out of the program here, you're not worried about that. You'll be able to get your lights and gas turned on. 

Coaching has been a wonderful and amazing thing for me because Ms. Jhons treats me like a sis or family member and not like a student. Coaching opened up my eyes to some things that I felt my eyes weren't open to before. 
How has transitioning to COTS been for your son?

He enjoys being a kid. He finds other kids to play with. He's laid back and cool. He wants to chill and relax. He wants to be a regular kid. Every day he's on the computer, reading a book or watching a movie about the outdoors. It's been fine for him here. I thought moving from one place to another would throw him off, but my son didn't have any problems adjusting.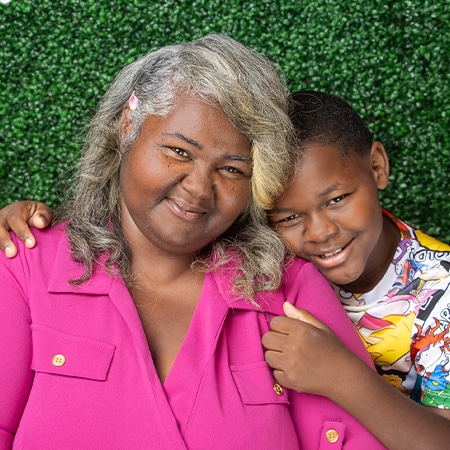 When it came time for school, he was ready. Coming from where were, someplace that was very toxic, to here… has been great for us.
What are common misconceptions or stereotypes about experiencing homelessness that you would change or address?

When people think about homeless they think you're not eating, you don't have friends or family. I volunteer every Saturday and Sunday where there's hot food, bagged lunches, all kinds of stuff to wash up with… But I had to ask the ladies out there one day why do they always bring bologna. Because everybody doesn't eat bologna. Everybody can't eat bologna. I understand it's cheaper than other lunch meats, and I understand that a lot of people need help. But what's the difference between some bologna, some turkey, or some chicken lunch meat? A choice is all I'm saying. 

Don't make someone feel bad about their situation. Make them feel like they have a choice. That sandwich that you give them, may be their last meal for the day. And if it's bologna, and they have no choice but that, that's gonna hit them harder. They already feel the world is against them. Let people feel like they have a choice. A hot dog is cool too. But you can't take that around. We can't travel with a hot dog in our bag wrapped in paper towel. It gets wet. We can't keep that. 

I understand people want to give. People want to help. But give something that will last for a little while. Like the tuna kits. Because they have a seal on it. It comes with a spoon. You can open it when you're ready. It comes with mayo and mustard in separate packages. You don't have to worry about that getting bad. Also Lunchables. And cans of fruit last. Give people stuff that they can hold onto and save for later. Ice cream, no. Milk is no good. Bring non-perishable stuff. Sandwiches are fine, but give people the ketchup and mustard separate so the sandwiches don't get soggy and it's easy to keep fresh.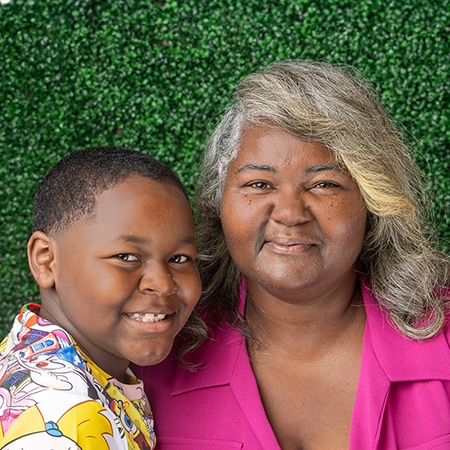 What do you believe are the most effective ways for individuals and communities to support and empower those who are currently experiencing homelessness?

A lot of people experiencing homelessness do not know how to read or write. I was talking to someone who was so intelligent we had an entire conversation but they couldn't recognize their own name. I know people who can read but don't understand what the words are telling them. I also know people who don't know how to tie their shoes. Most people just want shoes they can slip on or shoes with laces that don't need to be tied because they have problems with their hands or something. It's the daily small things people experiencing homelessness could use help with.
We also need more people with patience. To deal with people experiencing homelessness, you need patience. Don't just give me water, chips, and cookies. That's only scratching the surface. Have a conversation with me.
What are your plans this week?

I'm playing it by ear. I've been coming down here in the lobby every morning and helping to file stuff. And I'm thinking about the different ways I can help others here. 
I want to help plan some things for the kids. There are a lot of young moms here with little kids and I want to make sure they are well-fed during the week. I'm glad we have the Meet Up and Eat Up and looking forward to more programs for the kids. I would love to start a cooking class. And I would like to see a 1:1 program for first-time moms.